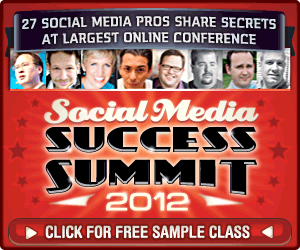 Social Media Success Summit 2012 is a special online conference designed to help you master social media marketing.
It is brought to you by Social Media Examiner. If you are online a lot, I'm sure you recognize that name! I've been a guest blogger for their very popular website and a guest expert on their Facebook Friday events. And Social Media Examiner is on my Go-To Social News Facebook List!
Twenty-seven of the world's leading social media pros (including ME :-)) will show marketers and business owners, who want to quickly achieve social media success, HOW to do that! This isn't just a talk-fest (not a fan of those types of conferences).
Instructors include: 
Jeremiah Owyang (Altimeter Group),
Chris Brogan (author,Google+ for Business),
Mari Smith (co-author, Facebook Marketing),
Brian Solis (author, Engage),
Jay Baer (co-author, The Now Revolution),
Jason Falls (author, No Bullshit Social Media),
Frank Eliason (author,@ YourService),
Michael Stelzner (founder, Social Media Examiner),
Mark Schaefer(author, The Tao of Twitter),
Dave Kerpen (author, Likeable Social Media),
Jesse Stay (author, Google+ for Dummies),
C.C. Chapman (co-author, Content Rules),
Kipp Bodnar (co-author, The B2B Social Media Book),
Amy Porterfield (co-author of Facebook Marketing All-in-One for Dummies)
Andrea Vahl (co-author of Facebook Marketing All-In-One for Dummies)
Phyllis Khare (author of Social Media Marketing eLearning Kit for Dummies and co-author of Facebook Marketing All-In-One for Dummies)
and experts from LinkedIn, Dell, Ford,Citigroup and Citrix–just to mention a few!
WHERE: At your home or office! You attend this live event using your computer (no long-distance bill or travel expenses!).
WHEN: Starting May 1, 2012 (spread over four weeks to improve learning and accommodate your schedule. Plus you'll get recordings and transcripts of all live sessions.
I'm happy to be an affiliate for this conference, and join other people in promoting this event. If you know anything about me, you know how much I LOVE what social media can do for small businesses. This social media conference will give me great ideas for marketing, great tools for marketing, and lot of leading edge information on where to put your energy this year. Join me!